Most men who suffer from male pattern baldness are extremely unhappy with their situation and would do anything to change it.
Hair loss affects every aspect of the hair loss sufferer's list. It affects interpersonal relationships as well as the professional lives of those suffering. It is not uncommon for men to change their career paths because of their hair loss.
– American Hair Loss Association
Medical science has revolutionized the treatment of men's hair loss.
There is no longer any reason for men to suffer through years of guinea-pig-style sampling of ineffective hair loss products — because scientists and researchers have conclusively proven:
… So the first step in dealing with your hair loss is finding a solution that addresses the issue of excessive DHT!
Because if it doesn't, then it's not going to produce the long-term results you desire — a medically proven FACT backed by more than 15 years of extensive medical research, clinical trials, and studies.
Choosing A Hair Loss Solution Designed To Deal With DHT
Once you understand the role DHT plays in male pattern baldness, you can quickly eliminate most of the hair loss shampoos, conditioners, and supplements you'll find sold on the Internet today.
Because while some of them do address issues like overproduction of sebum and nutritional deficiencies that can all further exacerbate hair loss…
… Most of them don't deal with the #1 cause: excessive DHT.
Which means they're a waste of your good money and valuable time.
So assuming you're not interested in the more extreme options like transplant surgery and scalp reduction, what ARE your choices?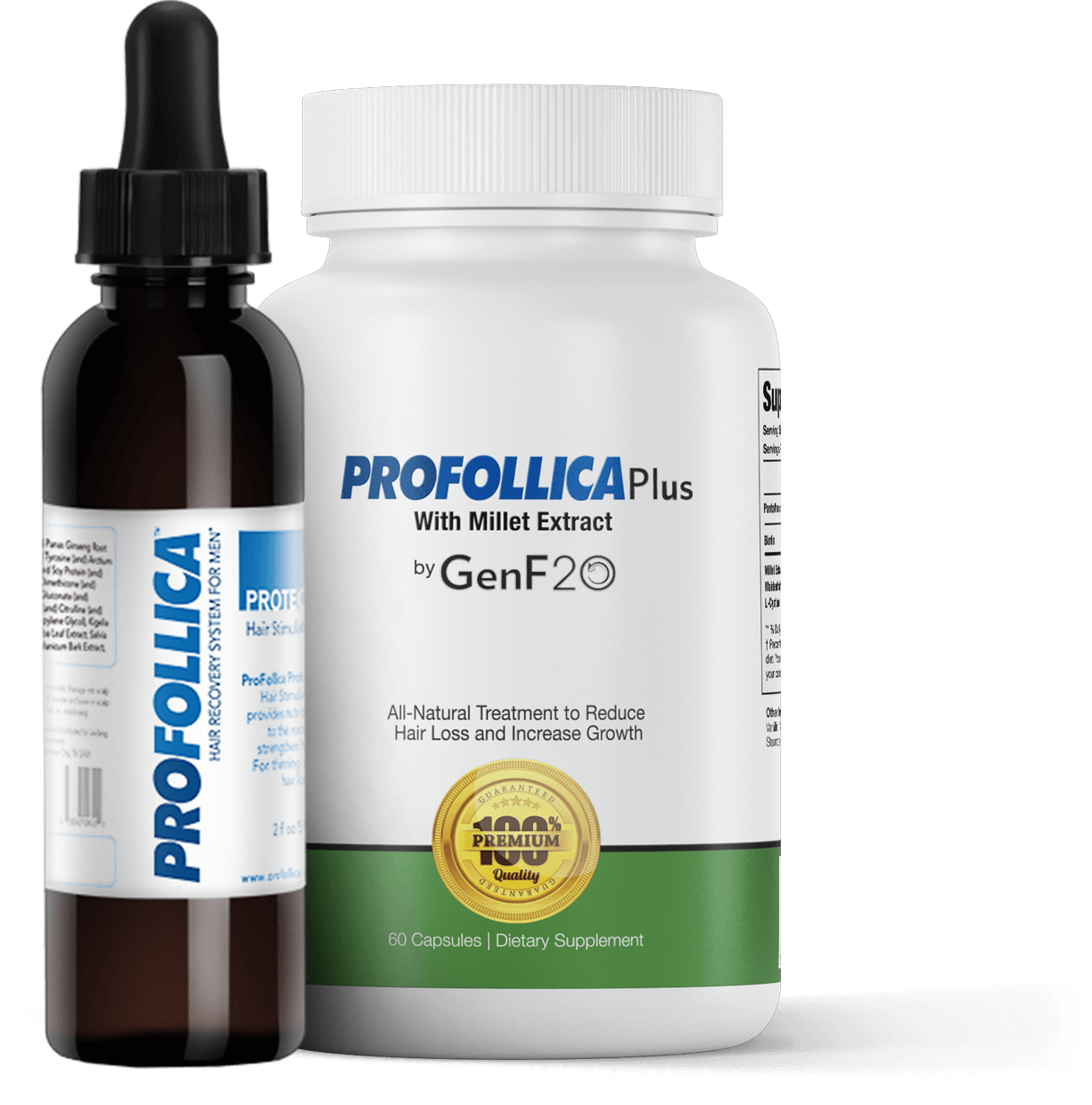 Prescription Drugs
Finasteride
Marketed by the names "Proscar" and "Propecia".
Minoxidil
Which is available as both a prescription pill and topical ointment marketed as "Rogaine."
Minoxidil was a revolutionary treatment for hair loss when it was first released. However, it doesn't address the hormonal DHT issue, so it has been found to produce disappointing long-term results…
… It's no longer recommended as a first line of attack against hair loss.
Finasteride has produced the best overall results for prescription drugs, as it directly addresses the overproduction of DHT.
However, it can come with debilitating long-term sexual side effects that persist long after the drug has been discontinued.
According to Drugs.com, side effects of finasteride include:
Impotence (1.1% to 18.5%)
Abnormal ejaculation (7.2%)
Abnormal sexual function (2.5%)
Decreased ejaculatory volume (0.9% to 2.8%)
Gynecomastia (2.2%)
Erectile dysfunction (1.3%)
Ejaculation disorder (1.2%)
Worse, in December of 2008, the Swedish Medical Products Agency concluded a safety investigation of Propecia and subsequently advised that the use of Propecia may result in irreversible sexual dysfunction.
The Agency's updated safety information lists difficulty in obtaining an erection that persists indefinitely, even after the discontinuation of Propecia, as a possible side effect of the drug!
No Prescription Required
The good news is that you don't have to risk the side effects linked to drugs like Finasteride…
Because now there's a natural (and SAFE!) doctor-approved hair loss treatment that fights DHT without those ugly long-term sexual side effects!
Profollica is quickly changing the landscape of hair loss treatments with its powerful two-step approach to fighting hair loss from the inside-out.
And because it's a natural product, you don't even need a prescription to give it a try!
TRY YOUR NON PRESCRIPTION SOLUTION NOW
STEP 1 – THE DAILY SUPPLMENT
This hits hair loss right where it begins, on the inside, and fortifies the body with a series of herbals, proteins, amino acids, enzymes and nutrients that reduce excess levels of DHT.
See Details
STEP 2 – ACTIVATOR GEL
Not only clinically proven to encourage a healthier growth phase, it's also designed to interrupt formulation of – you guessed it – DHT.
See Details
Slow Or Even Reverse Hair Loss!
Profollica has several advantages over traditional hair loss treatments. It's a comprehensive two part system designed to:
Interrupt conversion of 5-alpha-reductase to DHT!
Encourage growth of plentiful new hair!
Stimulate blood and nutrient circulation to the follicles!
Protect hair follicles so they're less likely to shrink and die!!
Regulate production of sebum and your natural oils!
Fortify your body with hair-friendly nutrients!
Awaken dormant follicles back to the 'growth' phase!
Increase texture and quality of your hair!
Strengthen your hair and reduce breakage!
Reduce premature greying and encourage your natural color!
Protect against sun damage and related breakage!
Now You Can Try It Risk Free – For 67 Days
We know from experience that Profollica delivers best results to men who use the product for a minimum 60 days, and with ongoing use for plentiful hair.
Remember, it takes at least 30 days for your DHT levels to stabilize, and another 30 for you to see hair regrowth. The average healthy man grows hair at about ½ an inch each month.
We Want You To See Results!
So we offer you our 60-Day Risk Free Money Back Guarantee to incentivize you to stick with the program for a minimum of 60 days.
Try it for 60 days. If you can't SEE the results… if you're not thrilled with the overall change in your appearance as your hair begins to regrow… then simply return the empty bottles for a COMPLETE refund, minus shipping & handling charges.
That's right… We encourage you to use ALL of the product we send you. If you don't love it,we'll give your money back – no questions asked.